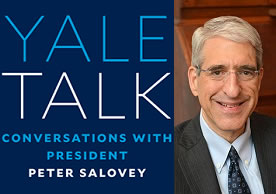 In the latest "Yale Talk" podcast, President Peter Salovey sits down with students Michelle Hu '20 and Vig Namasivayam '20 to discuss what it was like to graduate during a pandemic, and provide advice to the Class of 2021.
LINK TO THE PRESIDENT'S RECENT PODCAST
Yale Talk is a podcast hosted by Yale University President Peter Salovey. About once a month, he will share news from campus or host faculty, students, staff, or alumni for a conversation. Yale is a place of many voices—students, faculty,  staff, and alumni who are bringing "light and truth" to our world in many different ways. Through this podcast, you can hear those voices, so you can learn more about the amazing work of education and scholarship taking place at Yale.
You can subscribe to Yale Talk using apps such as Apple Podcasts, Google Play, Spotify, SoundCloud, and Stitcher. Transcripts of recordings will also be available online.