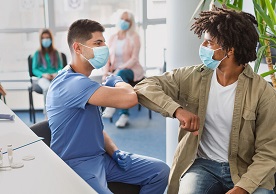 Faculty experts at Yale – including social scientists Alan Gerber, Greg Huber, and Josh Kalla – were members of a team partnering with Made to Save, a national campaign working to increase vaccinations in communities of color, to develop a new training video that helps doctors, nurses, and other health care professionals talk more effectively with patients about the COVID-19 vaccine.
The training aims to strengthen trust between doctors and patients in the U.S. about COVID-19 vaccines and to bridge a communication gap between health care professionals and individuals who remain unvaccinated. It will also help health professionals improve their communication skills so they can address the racial inequities in health care that contribute to people's fears about the vaccine.
Read the full story on YaleNews (December 17, 2020).